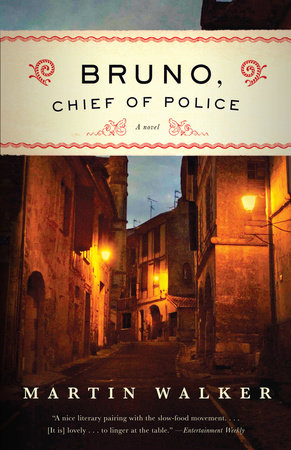 Bruno, Chief of Police
By Martin Walker
Penguin Random House, 2010
Bruno, Chief of Police is the first in a series of mysteries set in a small town in modern-day rural France. In it, Walker introduces Benoît Courrèges, aka Bruno, a former soldier who has immersed himself in the gentle rhythms of French country life.
Bruno is an excellent cook, spends his off-hours renovating his shepherd's cottage, and would probably be a great shot, if he could be bothered to carry his gun. Although Bruno technically has the power to arrest the citizens in his village, he would greatly prefer that events never get that far, and so has a tendency to talk things over first.
The mystery involves an elderly North African man's murder, with roots in conflicts within the town dating back to the German occupation during WWII.
What I thought of it
The most enjoyable parts of this book for me weren't actually the mysterious bits. Bruno conducts his investigation in a calm, almost lackadaisical, style that suits the character of his village. Even being partnered with a policewoman from the more aggressive Paris office doesn't shake up his calm approach that much.
Walker's deliberate pacing gives the village time to shine. That worked well for me. The parts of the book where Walker explores what it's like to be a small town in the rural French countryside under the European Union were the parts that I enjoyed the most. A few moments stand out for me:
The arguments the food vendors in the marketplace would have with the visiting EU inspectors over traditional food preparation methods no longer allowed under current EU standards

The glee the village children took in using Resistance methods from WWII to protest modern EU food inspections (the children shoved a potato into the exhaust tail pipe of the EU inspector's car, causing it to break down a few miles away from the village)

The bitterness the average townsperson felt toward the English for not adopting the euro and over immigration issues in general. At least one character complained outright that the English had only one foot in the door when it came to the EU, and so enjoyed an unfair advantage when it came to buying up property in their little town due to the UK's stronger currency. Those complaints really resonated for me given all the chaos of Brexit. 
These moments brought the characters and life of the town alive for me in a way that reminded me very much of what I love about reading Louise Penney. Both authors have a way of making their settings so vibrant that I feel as though I could book a trip tomorrow to their little towns and feel right at home.
Who would enjoy this book 
Anyone looking for a semi-cozy mystery set in rural France
Anyone participating in the Book Riot Read Harder 2019 challenge who is looking for a book written by a journalist (Martin Walker is editor in chief emeritus and international affairs columnist at United Press International.)